About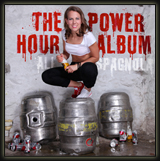 Ali Spagnola created The Power Hour Album, an album of 60 one-minute drinking songs where the listeners take a shot of beer every time the song changes. At track 27, Ali encourages everyone to drunk text their friends with the song "Text Someone That's Not Here". This website features the drunk texts Ali has received after the 27th shot of her Power Hour Drinking Game.
listen to Text Someone That's Not Here
Send Ali your drunk text to be featured on this site!
Text SHOT27 followed by YOUR MESSAGE to 66174
Or go to the Contact Form to submit a drunk text online. The texts are kept anonymous shown only with area codes. Check out The Power Hour Album website to see more about Ali's Drinking Game Album and concerts